According to the Center for Disease Control, some viruses and bacteria can live from 20 minutes up to 2 hours or more on surfaces like cafeteria tables, doorknobs, desks, and etc.

One of the most alarming trends in recent years is the rising numbers of people who don't practice good hand washing to stop the spread of germs. If fact most of us think the worst thing that can happen if we don't wash our hands is that we might catch a cold. "Well so what," we say, "I'll just catch it eventually. Besides the more germs you're exposed to...the stronger your immune system will be."
Well, this might be true as far as it goes... But it completely misses the rest of the story: some of those germs out there can kill you! This is something most people in America and other countries with good health care have forgotten about. But 100 years ago the flu (influenza) was spoken of with terror. Millions of people the world over died from it.
Other disease epidemics like small pox, whooping cough, polio, and measles also caused widespread death and suffering -- especially among small children and the elderly (like grandparents). In fact if you lived back then, you would have known it was very common to have a brother or sister die from one of these diseases.
So why don't we see as many kids dying from these diseases now? Two reasons: immunizations (those shots you get from the doctor) and better hygiene. Hygiene means keeping things clean and free of germs.
Nowadays we know that we must:
be careful to wash after changing diapers and using the toilet,

wash before eating or preparing food

wash after handling animals

cover our nose and mouth with a tissue when we sneeze or cough,

avoid sharing another person's drinking cup or utensil (forks, etc.)

and to keep our water sources clean -- away from sewage, garbage dumps, and cemeteries.
Doing all these things has helped stomp out much of the disease that used to cause so much sickness and death. And this is great!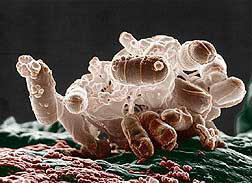 But the problem is, now people forget about how powerful and dangerous germs can be. Or...they think these diseases don't even exist anymore. But this is not true.
We still have to watch out for the germs that cause meningitis, bronchiolitis, influenza, hepatitis A, and various types of infectious diarrhea. In addition there are the germs like salmonella and E. Coli which, if we don't wash hands, can be picked up from, or transmitted into, our food. Yuck! (Note that you should always wash hands after handling raw eggs!)
And then, there is another threat -- new germ strains! You've probably heard of HIV (which is transmitted from person to person by body fluids, like blood) and SARS, but how about bird flu? Bird flu swept through Asia recently, sickening ducks and chickens and other birds...but also human beings. And in Africa, the Ebola virus, thought to have originated from monkeys and chimps, struck with deadly power. Scientists think there will be more and more of these killer viruses, especially arising out of human contact with other animals -- or from contact between two or more animal species kept together by humans, such as on farms.
As noted above, some germs can live for up to 2 hours on doorknobs, toilet seats, school desks, elevator buttons, and etc.
So how do these germs get there? Usually what happens is that either people use their hands to wipe away mucus or they pick their nose (ew!), or they sneeze and cough -- either right into the air (like in the picture) or into their hands, which they then use to push shopping carts, open doors, pick up toys, or whatever else.

Other ways that germs get spread include touching dirty Band-Aids and used tissues (please put them both in the garbage). And spoiled or raw food, or unwashed fruits and vegetables, can also be a source of germs.
<![if !vml]>
<![endif]>

To avoid spreading or picking up disease causing germs get in the habit of washing your hands everyday, several times a day. Obviously, you should wash your hands whenever they are dirty. But in particular, here are a few specific times when family members should wash their hands.
When to wash:

· before eating, drinking, or snacking

· after using the toilet

· after playing outdoors

· after coughing, sneezing, or blowing their noses

· after touching a cut or open sore

· after touching or cleaning up anything yucky like: rotten food, pet "accidents", dirty diapers, used tissues, etc.

The American Society of Microbiology finds that up to one-third of people passing through major airports in the United States don't wash their hands after using the toilet.

The U.S. Centers for Disease Control and Prevention (CDC) also estimates that about one in three people don't wash their hands after using the restroom -- Mayo Clinic
How to wash
Learn to keep hands clean by practicing these four simple steps:
· wet hands with warm running water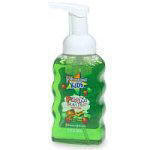 · add soap to hands making a soapy lather for 20 seconds (sing a song) and wash the fronts and backs of hands, wrists, between fingers, and under the fingernails
· rinse hands with warm running water
· dry hands thoroughly with a clean towel
Don't Miss: Soapy Experiments, Bubble Fun, Make Your own Soap, Coloring, and the History of Soap.