Online Learning...
Animals A to Zoo

Animal facts from Animal Planet! This multimedia site includes sound bytes, pictures, text, and documentary clips to help you learn about each kind of animal.
Animals & Nature, from National Geographic

Here's a great place to look up fascinating and accurate info on all your favorite animals! Offers A to Z creature features, plus news and stories, incredible photos, and wallpaper for your computer. You can even use their Local Wildlife Guides to find out about native plant and animal species in your area. (Just enter your zip code.) Printable coloring pages as well.
Animal Biology & Animal Behavior
Suited to older students, this is an excellent collection of articles, web pages, and breaking news on a wide variety of topics related to animal behavior and biology. Lots of unusual links.
You may have heard of a wolf "pack" or a dolphin "pod", but what about an "army" of frogs or a "skulk" of foxes? Learn the names for all kinds of animal groups -- as well as what to call the male and female of each species, and their offspring.

In the fathomless depths of the ocean, where it's so far from the surface that even can't penetrate, live bizarre creatures with adaptations so strange they seem like science fiction. Part of the Extreme Science website.
From Kids Planet, this site features fact sheets on a broad array of animals, arranged by continent!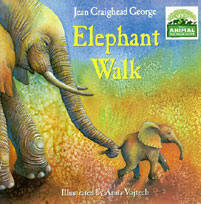 Elephant Walk
Written by Jean Craighead George, Illustrated by Anna Vojtech
All about Elephants. Learn what distinguishes the African elephant from the Asian elephant and much more.
This site by the American Museum of Natural History presents an online exhibition showing various endangered animals, the reasons for the problem, an informative fact sheet on each animal species, as well as some fun pages with legends and coloring. There's even information on endangered habitats, such as coral reefs, the Olympic Peninsula, Madagascar, and the Kapuas River region of Borneo.
Learn about the difference between frogs and toads, meet some really strange and wacky frog species, and find out all about the life cycle and adaptations of different frog types. Part of the great Frog Land site with lots of cool frog photos.
More Frog Facts, Fun & Links
from the Exploratorium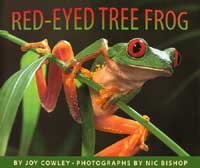 Red-Eyed Tree Frog. Joy Cowley. Illustrated with photographs by Nic Bishop. Scholastic Press. 32pp.
<This is useful site for learning about the various creatures that make up the family crocodilian. Great facts and links, plus myth busting! Photographs illustrate the differences between the various crocs and gators. Great for school reports.
A great place to learn about gorillas, including Koko, the gorilla who can speak to us in sign language. You can actually watch online footage of Koko signing, plus view other interesting online videos. Now you can also check out KOKO'S KIDS CLUB, with facts and images especially for younger gorilla fans!
See also:
Help continue Dian Fossey's legendary work to save the mountain gorilla. Adopt your own gorilla and be a long distance gorilla foster parent. You will get a special profile on your gorilla and a framed photo. Visit the site to learn more or to learn what else you can do to help these very special animals. (Be sure to visit the Gorilla Foundation web site for even more about gorillas.)
Hosted by the American Library Association, this site features a listing of high quality educational sites about animals. (Check out their other link topics too, like history and geology.) Be sure to check out their special listing of pages devoted to sharks!
Visit the Grizzly People website to learn interesting facts and join the effort to preserve this magnificent creature and its habitat.

Infrared light shows us the heat radiated by the world around us. By viewing animals with a thermal infrared camera, we can actually "see" the differences between warm and cold-blooded animals. Infrared also allows us to study how well feathers, fur and blubber insulate animals. Check the images on the Infrared Zoo to see for yourself!
To learn more about infrared, visit the Cool Cosmos.
Kip and Co.



Kip the koala welcomes you down under to Australia, mate! Join Kip to learn Aussie animal facts, play games, read a story, or do some coloring.
Visit the website for this fun PBS kids' nature show. Learn about animals, play games, and checkout the episode guides for the show.

The quickest way to take action for the environment. This site features news in the world of wildlife conservation and environmental issues, and highlights specific actions you can take -- right now -- to help with wetlands preservation, ending government funded harm to the environment, and urging government to take positive action on behalf of wildlife. Be sure to check out their cool stuff for kids including their excellent action tips. (Be sure to check out Green Home.

Courtesy of the San Diego Zoo. Check in and see what the pandas are up to. Then visit their Panda Central to find out fun panda facts and photos. Be sure to check out there Animal Bytes to learn more about your other favorite animal species.
Giant Pandas Written and illustrated by Gail Gibbons. 32pp. This fascinating book provides factual information about giant pandas. It is an introduction to the physical characteristics, behavior, life cycle, and habitat of these endangered animals. Colorful illustrations accompany the text.
Animals make much the same sounds around the world, but each language expresses them differently. English and French cows sound the same, but not in English and French! Explore the sounds of the world's languages through the sounds of the world's animals.

The Tiger Information Center
This is the place to view and learn about tigers. Tiger facts, fun games, tiger photos and art, plus conservation info and the latest research, news and discoveries.
Turtle Trax Updated!
Learn about sea turtles!
A great listing of sites with interesting animal information.

Voted the Yuckiest site on the web -- but in a good way -- Worm World has interesting facts about worms and their role in the ecosystem.
This site combines great guessing games with fun animal trivia. For example, did you know that some kinds of fish give birth to live baby fish -- from eggs that hatch inside the mother's body?
Lots of interactive fun here with puzzles, matching games, animal mahjong, and more.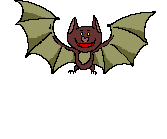 Play the echolocation game, try some fun crosswords and word searches, and do some puzzles -- you're just getting started with this fun site that's all about bats.
Just pick a story to start your own personalized adventure!

Read the clues to decide if the creature described is a real animal...or not!
D.K. Nature Clip Art

Love the illustrations in those DK educational books? Check out their free clip art! These are the super high quality, eye-popping illustrations that you would expect from DK...and totally free! Great for illustrating school reports or art projects. This clip art can be used at home or school, but not for commercial purposes.

National Geographic
Games for Kids

Interactive Adventures, the Cartoon Factory, funny fill-in the blanks stories and photo gags plus mazes, quizzes, word searches, photo guessing games, and more.
NATURE Puzzles, Games, and Activities
Fun interactive games and puzzles plus interesting nature facts! Sponsored by PBS.
Surf this site for fun games for ages 3-13. Chirp for preschoolers, ChickaDEE for elementary, and OWL for middle school kids!

Ranger Rick's Animal Games

Download Macromedia Shockwave!
Switcheroo Zoo
Download Macromedia Shockwave!
Combine the parts of regular wild animals to make up your own wacky new animals in this wonderfully silly online game. Will it be a Zebraphant, or a Pigtah?
Online fun from Kid's Planet! Puzzles and matching games and more.
Play X-Terminate and Toxic Waste and try unusual activities
Zoboo Land, Creature Karaoke, Feature Creature, and more fun based on this popular PBS nature show for young children.